Floor Refinishing And Waxing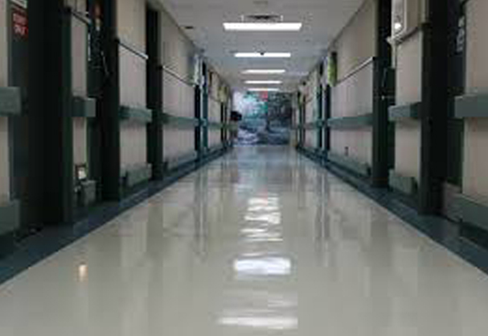 The vinyl and tile floors in your facility need regular maintenance to continue looking good. Arnott Maintenance Enterprises offers professional vinyl and tile floor cleaning for business settings of all kinds — so your facilities make as strong an impression as you do.
Talk to us about commercial vinyl floor stripping in Orlando and get the cleaning services you need to make your business facility shine. Clean, well-maintained floors communicate professionalism, make your facility a more inviting place to work and help build trust with clients. When you're ready to learn more about the best in commercial tile floor cleaning, come to us.
BENEFITS OF OUR COMMERCIAL FLOOR WAXING SERVICE
The way you care for your vinyl and tile floors can make all the difference in their longevity and value. Our tile floor stripping for business facilities and other services offer some key benefits, such as:
Enhanced aesthetics. Clean, shiny floors look better than dingy floors covered in wax buildup and discolorations. By regularly stripping and waxing the floors in your business, we can bring out the beauty of your facility's flooring. This makes the location look and feel more inviting.
Protected floors. Regular floor stripping, waxing and sealing act as preventative maintenance for your floors. They protect them from damage caused by daily traffic and use. This helps protect your investment.
Cost savings. Preventative maintenance saves you the higher costs and headaches of repairing major damage. By investing in proper care for your flooring before it's damaged, you can avoid the unnecessary costs of fixing or replacing those surfaces later.
When it comes to tile and vinyl flooring cleaning for business , Arnott Maintenance Enterprises is the expert in Orlando. Contact our commercial floor stripping company anytime you're looking for expert flooring care. Give us a call at (407)415-7881.
HOW OUR FLOOR STRIPPING AND WAXING WORK
The difference between dull and gleaming floors is all in the maintenance. Proper care can drastically improve the look of your surfaces. Arnott Maintenance Enterprises will beautify and protect your floors using our commercial floor stripping services and our commercial floor waxing services, ensuring you'll have bright, long-lasting surfaces.
The process begins with mopping the floors to remove surface grime. After drying the floor, we strip away any existing floor wax. Removing the wax essentially takes off the top layer of your floor, along with all scratches and imperfections. Then we apply commercial-grade wax to make your floors sparkle. It's a detailed process that yields impressive results for your facility.
TYPES OF FACILITIES THAT BENEFIT FROM OUR TILE FLOOR CLEANING FOR BUSINESS
Any facility with tile or vinyl floors needs to properly maintain and care for those surfaces. Whether you're responsible for a school, retail store, office complex, government building or other facility, Arnott Maintenance Enterprises is here to help. We work with a wide array of businesses and institutions to protect and maintain their floors so they'll look good, last long and serve clients and employees well.